Our Team
Lyn Spessard,
Founder
Lyn founded the company over 20 years ago when it was known as Lyn Spessard Designs.  She has designed pools for many Contra Costa and Alameda County pool builders.  Her education in landscape architecture from the University of California, Berkeley, spearheaded her interest in taking the vision of her creativity in landscape design from concept to reality.  With special interest in getting the job done right, she began contracting and managing her projects.  Experience in assisting pool builders and working with a majority of the counties pool builders has afforded her the knowledge and trust throughout the industry.
Brian Christopher Halloran,
Director of Design & Planning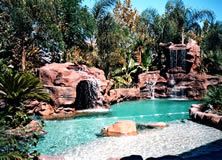 Brian brings over 15 years of multi-disciplinary experience in both the public and private sectors in Landscape Architecture, Construction Management, Urban and Regional Planning.  He is the co-founder of LSA along with Lyn Spessard.  Prior to LSA, Brian has worked as a design and planning consultant for several cities throughout Marin, San Francisco, San Mateo, and Contra Costa Counties where he worked on design reviews, downtown beautification, and design guidelines. In the private sector, he specialized in park, plaza, subdivision and golf course design.  Brian's enthusiasm for creative and artistic statement has been well recognized throughout his career in both residential and commercial sectors.  Brian received Jesuit training from St.Ignatius College Preparatory in San Francisco, Associates Degree in Architecture, Bachelor's Degree in Construction Management, Master's Degree in Urban and Planning and studied Landscape Architecture at Cal. Brian has been with LSA since it's inception in 1995.
Tim Arnold,
Construction Supervisor
Tim brings over 10 years of experience in landscape construction management. As a construction supervisor, Tim has grown up in the landscape and construction industry and believes it is imperative to focus on impeccable customer service. He trains and leads his crews in following these high standards and to always perform their best possible work. He has a wide range of expertise in all aspects of landscaping. Tim attends landscape seminars and takes detailed courses to keep our landscape installations up to date with the newest equipment and technology. Tim has been with LSA since 2000.
Cynthia McBee,
Office Manager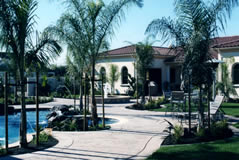 Cynthia is a college graduate in which she has an Associates of Science degree in Accounting.  Her love of numbers and problem solving was clear long before her career started in 1997.  As class valedictorian, she graduated high school with honors earning her a scholarship to jumpstart her career as an accountant.  She has prior experience working with pool and construction companies as well as auditing for a large corporation. 
Judy Halverson,
Pool and Landscape Illustrator
Judy brings over 15 years of experience as a corporate legal secretary, following over four years as a studio artist.  She diligently revisited her creative muse and started a graphic design/desktop publishing business for the next nine years.  Judy resumed studio painting a few years ago and works predominantly with mixed media.  She currently works with LSA as an illustrative designer and specializes in pool renderings. Judy has been with LSA since 2005.
Shelly Grimm,
Pool Designer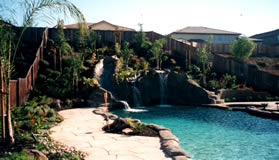 Shelly brings over 19 years of experience in the pool industry.  She has complete knowledge of every stage in pool construction from start to finish.  She specializes in both new and remodeled pools.  She is proficient in the Pool Draw program. Shelly has been with LSA since 2005.
Terri Ehr,
Computer Aided Drafting Specialist (Auto CAD)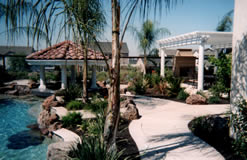 Terri brings over 20 years of experience in computer aided drafting using several drafting and design programs with a specialization in Auto CAD.  She brings an esthetic element to her drawings due to ten years of experience as a hand drafter prior to learning computer aided drafting.  In addition to her experience with landscape drawings, Terri has worked in civil engineering design and drafting, including residential and commercial site grading, road and utility design, and land surveying with firms in Fairfield and the Napa Valley in California, as well as firms in the Midwestern states.  Terri has an engineering technology degree in drafting from Diablo Valley College, which included courses in architectural rendering and surveying.  She later returned to Napa Community College for Auto CAD drafting courses.  She began working for LSA in 2007.